Sixteen years ago I was writing the daily work on the chalkboard of a fourth grade classroom when my cooperating teacher's husband appeared in her doorway. He had tried calling the school, but the telephones were down.
I had just begun to take over instruction as a student teacher, but she trusted me enough to step out in the hallway with him, leaving her students in my care. I jumped into the lesson and after sometime she came back in the classroom, her face ashen and pale. I kept on teaching, worrying that her sideways glances were indication I had bungled the lesson. Once the students were working independently, she flagged me over to her desk where she proceeded to tell me that two planes had hit the World Trade Center and one had hit the Pentagon.
It took several minutes for the gravity of what she was telling me to sink in. It was one of the first times as a teacher when I had to hold myself together and be the face of courage for my students when inside I felt like the world was spinning out of control. I had only been on the job a few weeks.
We were stationed next to Fort Riley in Manhattan, Kansas – known as The Little Apple – and many of our students were from military families. We had internet, but barely, and the connection was immediately lost once the news broke. During lunch we gathered in the teacher's lounge around the mammoth Sharp TV belted down to the multimedia cart; the news replayed the images of mangled steal and smoke and fire over and over. It was certainly one of the longest days in my teaching career.
This year, on the anniversary of September 11, I decided to share this important event and others with my students through my daily book talks.
Monday
None of my students were alive on what is arguably one the worst days our nation has ever faced. It was for this reason I decided to book talk Towers Falling by Jewell Parker Rhodes. The story takes place fifteen years after September 11, 2011, and Deja's teacher has begun her yearly unit on the terror attack.  My students were drawn into the book because like Deja, even though they were not alive, they still feel the repercussions of that day and how it has changed our society.  With the help of two new friends, Ben and Sabeen, Deja comes to grips with her father's illness and learns why learning our history matters. If your students are asking, "Why should I care?", then hand them this book.
Tuesday
Fast forward to 2005 and Hurricane Katrina, and still most of my students were not born yet. Being only five hours away from New Orleans, my students do know a lot about Katrina, but like 9/11, they don't grasp the impact this event had on not just the Ninth Ward, but our entire nation. With dire predictions for Hurricane Harvey swirling in the news, I chose the I Survived: Hurricane Katrina, 2005 for my next book talk.
The I Survived series is always checked out of our library. Very rarely will you find one sitting on my shelf and the reason why is they make historical events accessible to kids. Each event is told through the perspective of a survivor and I think that is one of the most appealing aspects of these books. In spite of the horrific circumstances, people do make it out alive. This is important for our young readers because they need to know that in the face of danger, there are heroes they can rely upon, if not their own resilience. Lauren Tarshis doesn't muddy the history, but she does present it in a format that is easy for middle grade readers to digest. This particular title is timely given the impact of hurricanes on our country this year. Recommend for second grade and up.
Wednesday
Keeping with my theme of historical events, I choose Chains by Laurie Halse Anderson as my next book talk. Anderson is most well know for her young adult novel Speak, but her Seeds of America trilogy is just as worthy.
Most history lessons focus on slavery and the Civil War, but Anderson takes us back to the roots of slavery with our founding fathers and the American Revolution. Isabel and her sister are to be set free, but upon the death of their owner, they are sold at auction to the cruel Lockton family in New York City. There she teams up with Curzon, who secretly spies for the patriots, and learns that the freedom they are fighting for is not meant for her. In a world where rebels and redcoats cannot be trusted, Isabel embarks on an unforgettable journey that will leave readers vying for the rest of the series. Recommended for grades 4-8.
Thursday
Anytime I can talk about Avi, I do. His prolific work appeals to boys and girls and covers a wide range of genres and topics. Our fifth grade is currently studying the Civil War and one book I always recommend is Iron Thunder: The Battle Between the Monitor & the Merrimac. 
Orphaned and hungry, Tom Carroll finds work in a ship yard building a war machine that has never been seen by the likes of man. Working his way up to assistant, Tom begins to doubt the steadfastness of the iron clad Monitor that will soon face the confederate Merrimac. Interlaced with the trappings of a spy novel, this book appeals to history buffs seeking adventure. Avi does a remarkable job building the story around his research and the novel would make for a great read-aloud or book club selection. Recommend for fourth grade and up.
Friday
It took me no time to finish one of the most highly anticipated titles this year, Refugee, by Alan Gratz. I was just as eager to share it with my fifth graders (would not recommend for younger grades unless reading with a parent and child is a mature reader). This made a nice ending for a week of book-talks focused on historical events.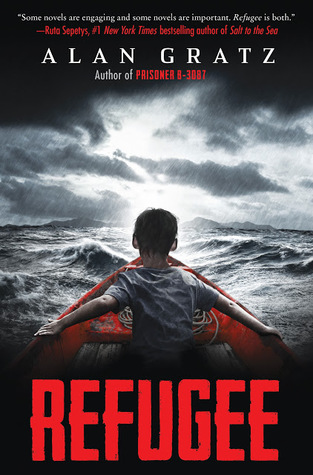 Isabel, Josef, and Mahmoud, all child refugees, embark upon a journey to find freedom and peace from their war torn and desolate countries. Alternating chapters tell each child's story and switching point of view which keeps the reader engaged. Gratz beautifully interlopes their stories and weaves a tale of asylum seekers throughout the 20th century. Based on sound research and current events, Refugee will spark discussion of what it means to be home and how hope can help us get there. The audiobook version is well narrated and highly recommended. I predict this book will find its way onto many award lists this year!