Monday
There is a Hindu proverb that says, "Help your brother's boat across, and your own will reach the shore."
That's what my brother and I have been doing for each other our entire life; helping each other cross the waters. Some calm. Some category five hurricanes. From the time I was a newborn and he was toddler and our mother signed away her parental rights, we have been charting our course across stormy seas. Through our father's addiction. Through his overdose. Through it all.
Last January, my brother called to tell me he would undergo triple bypass surgery. At just forty years old, he had been hit by a squall of bad genetics and unhealthy eating habits. Could I come home? Was there any way he could see me before going into surgery? Just in case, you know, his boat didn't make it across.
With no question, I drove home. After ten hours of surgery – when they said it would be five, and a quadruple bypass – when they said it would be triple, my sister and I breathed a sigh of relief when he finally made it from the OR to the cardiac ICU. His pasty, lifeless body lay hooked up to a ventilator and a deluge of tubes and wires and beeping machines. Of all the storms that have passed, this one left him a frail man, nearly broken. My sister and I both cried when we saw him.
He had made it through the eye of the storm, but the tail winds were yet to whip up. Two days post-op his kidneys and liver started to fail and he wailed in agonizing pain from the chest tubes. I fed him ice chips and sips of water. I buzzed the nurses and incessantly bugged the hospital social worker. Visitors came and went. I cried out to anyone who would listen. Our parents should be here. My sister and I shouldn't be doing this alone. He shouldn't be doing this alone.
After five days with him in the hospital, I had to return to Memphis. I cried the entire way home. I had seen him out of the storm, but he was no where near the shore. It would be a long recovery and I would be hundreds of miles away, but I had to let go.
Gratefully, he didn't have to do it alone. He was scooped up by our sister, our extended family members, and some really great friends. Inching his way toward shore, he began taking a few steps at a time. Then walking a few blocks at a time, he slowly regained strength. Little by little, he persisted and finally, he was able to anchor his boat.
Fast forward nine months, weeks in cardiac rehab, miles upon miles on his bike, and seventy five pounds lighter, he made the trip from Kansas to Memphis this past Labor Day Weekend. Undoubtedly, he was not the same man I had left lying in that hospital bed. Physically, emotionally, or spiritually. He had reached the shore, and so had I.
After he returned to Kansas, I knew I would highlight books about brothers.
Tuesday
My middle grade students are currently reading Cynthia Lord's book, A Handful of Stars for the Volunteer State Book Award, but many of them were unfamiliar with her earlier work. In Rules, Catherine has spent eight years of her life looking after David, her younger brother who happens to have autism. She is protective sister and tries to teach David the 'rules' for getting along in life; most importantly keep your pants on in public. Cynthia Lord captures the beauty and hardships and funniness of living with an autistic child, because she herself has an autistic child. Rules makes a great read-aloud for parents and teachers trying to instill empathy, and well deserving of the Newbery Honor and Schneider Family Book Award winner.
Wednesday
The day we brought our youngest child home from the hospital, our older son looked at me and said, "He doesn't do anything." He was jealous and disenchanted with his little brother, and at one point even asked how long he would stay. Couldn't we take him back?
When her parents find an abandoned baby wolf on their doorstep, Dot tries to warn them of the dangers of taking him in. He is a wolf after all, and they are a family of bunnies. Certainly he will grow up to eat them all. My son loves his younger brother, but much like Dot, he is often annoyed having a little person running underfoot. I shared Wolfie with my son's kindergarten class and they ate it up (no pun intended). This would make a great gift for a soon-to-be older sibling or as a funny read aloud to teach about making assumptions, judging others, and accepting differences.
Thursday
I'm not originally from the south, but when I first read Dear Hank Williams, I wished I had grown up here. This is one of my favorite books about brother-sister relationships, and without giving away too much (because I want you to go read this book), the voice of Tate makes the best read-aloud! I would recommend this book for any class learning the art of the friendly letter or for anyone dealing with a loss, no matter how big or small.
Two years ago I had the honor of meeting and interviewing Kimberly Willis Holt for Memphis Parent Magazine (click for the full article). This is a snippet of what I wrote…
With a masterful voice, Holt weaves the two sentiments together to create the fabric of Dear Hank Williams. Set in the fictional town of Rippling Creek, Louisiana, Tate P. Ellerbee is assigned a project to write letters to a pen pal during post-World War II reconstruction. In one-sided correspondence, Tate writes to Hank Williams, an up and coming country music star whom she listens to on the Saturday night radio show, Louisiana Hayride. Tate reveals her unwavering admiration for Hank and learns how to conquer her pain through her letters.
Friday
I can't talk about books about brothers without mentioning Jacqueline Woodson's Locomotion and sequel Peace, Locomotion. After loosing their parents in a house fire at seven years old, Lonnie and Lili are separated when they are sent to foster homes. Told entirely in verse, Woodson immerses the reader into the tragic life of Lonnie Collins and his sister Lili. In spite of harrowing circumstances, Lonnie finds light in his teacher Ms. Marcus, who teaches him to search for peace through the written word. A quick and powerful novel for middle grade readers that will be so moved, they won't even realize they are reading poetry.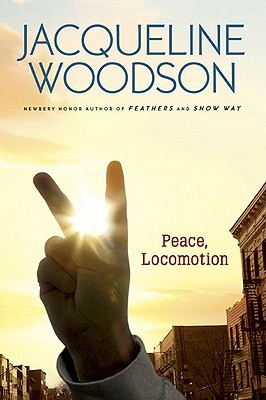 At twelve years old, Lonnie continues his story in Peace, Locomotion by writing letters to his sister Lili. Even though he tried his best not to, Lonnie finally feels at home with his new foster family. He is adjusting to his new life, but he doesn't want to forget life with Lili. He starts to chronicle his memories of their former life together just in case they are reunited some day. In helping her cross the troubled waters between them, Lonnie finds himself landing safely on shore. Equally as powerful as Locomotion, readers will be rooting for Lonnie and Lili with the turn of every page.